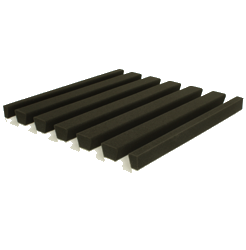 Stripecombi
Absorption / Diffusion Panel
This design is based on a striped shape and is made of two different raw materials for absorption and diffusion. It comprises acoustic foam and EPS which gives it a balance of both visual and aural characteristics.

It can be wall or ceiling mounted due to its light weight. The acoustic foam caps can also be supplied in blue or beige

Made of high density EPS which, unlike most other products on the market, is 80kg/m³ rather than the inferior, less effective, 30kg/m³.

This product can be mounted on walls and ceilings due to its low weight.
Made from 100% recyclable EPS.

Available Foam Finishes: