Click Here for Installation Details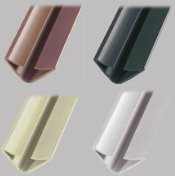 1212 (RP120) -Self Adhesive Double Winged Acoustic Seals.
Applications:- Head and jambs of doors and windows.
When used with an appropriate threshold seal, and door, the 1212 has an Rwof 31dB when used with an acoustic doorset assembly.
The air trapped between the two blades gives improved acoustic performance over a single seal.
Min/Max Gap: 3mm/4mm
Size: 12mm x 12mm as standard- (although a 10x10mm and 15x15mm version are available subject to minimum orders).
Colours: Black, White, Brown, Silver, Grey and Cream. NEW...Now also in Clear plastic
1m lengths (Part Code SE430)
2.1m lengths (Part Code SE440)
This is a superb acoustic seal which when used with an appropriate threshold seal and plate will meet the building regulation requirements. Supplied with a semi-rigid back section with integral self adhesive backing on both surfaces. The flexible sealing fins are very resilient, highly durable and offer extremely low friction characteristics so opening and closing forces are minimised. The opposing fins give excellent sealing performance from whichever direction the acoustic/smoke hazard emanates. If you are wanting the best acoustic performance from a door then using this seal along with one of our surface mounted seals is the way to go as a double set of seals gives best results.
Tested in accordance with BS En ISO 140-3: 1995.
Effective smoke seal up to 200°C
Fully tested for performance and durability under the third party certification schemes CERTIFIRE and BBA.